"It's alright to be little bitty, a little home town or a big old city, might as well share, might as well smile, life goes on for a little bitty while" -Alan Jackson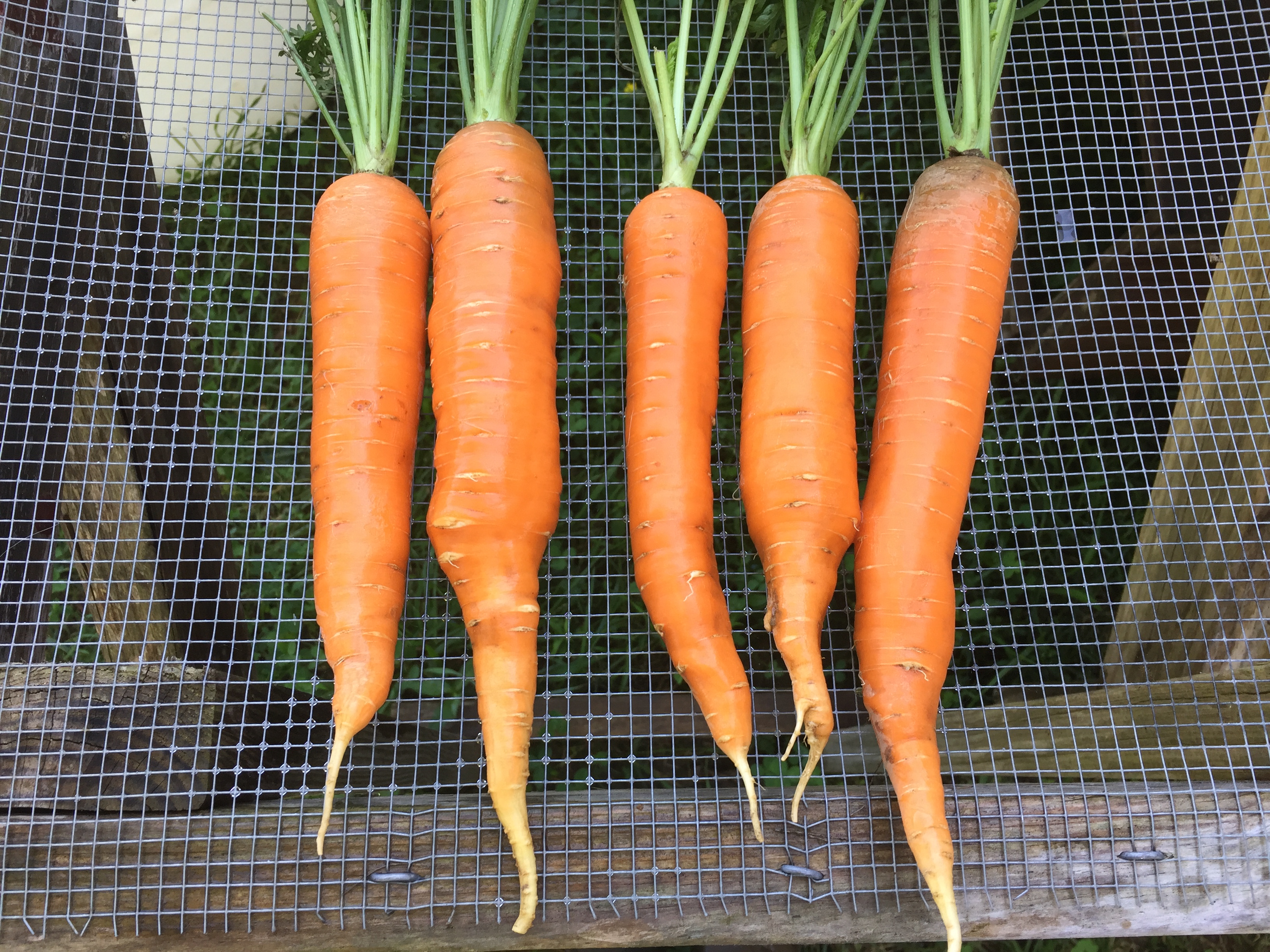 It's a "little" counter intuitive to us as human beings.  Bigger is always better.  But, I've learned as a vegetable grower that smaller is better, too.  The chef's always want little.  Baby green beans, baby squash, small turnips, small beets, etc. etc.  Harder to pick, but you get to charge a premium.
HOWEVER, it's really fun to grow something giant.  A county fair winner – a huge monstrous turnip, a whale of a cabbage…..fun.  This year it was carrots.  With all the rain, they just kept getting bigger.  I had so much fun pulling them out of the ground.
Farm News:  Going to be a hot week.  I really kind of hate this time of year.  I am trying to get my summer garden pulled out and my fall garden planted.  The girls and I are sweating it out, trying to brave the jungle of weeds that have been a product of all the rain (no complaints:))
What's in the bucket?  Edamame soybeans, okra, peppers, tomatoes, cucumbers, summer squash, potatoes, parsley.
What's at market? Edamame soybeans, potatoes, okra, cucumbers, sweet onions.  Circle S Beef:  filets, roasts, ground beef.
Circle S Gazpacho
2 cloves Garlic, Minced
1/2 whole Red Onion, Diced
1 whole Large Cucumber, Diced
2  large or 2 small whole Tomatoes, Diced
1 whole summer squash, Diced
2 stalks Celery, Diced
one seeded jalapeño, chopped ( or don't seed it if you like super spicy)
1/4 cup parsley, chopped fine
1 dash Salt To Taste
1 quart Tomato Juice
1/4 cup Extra Virgin Olive Oil
1/8 cup Red Wine Vinegar
2 Tablespoons Sugar
6 dashes Tabasco
1 t worcestershire
1 dash Black Pepper To Taste
Chop vegetables by hand into small dice, or with a food processor.  Add other ingredients.  Chill and enjoy.  You can serve with crusty bread, as a shrimp cocktail with chilled shrimp, or with chips and a dollop of sour cream.
Happy eating and thanks for buying local food from Circle S Farm!!:)