"Don't judge each day by the harvest you reap but by the seeds that you plant."
Robert Lewis Stevenson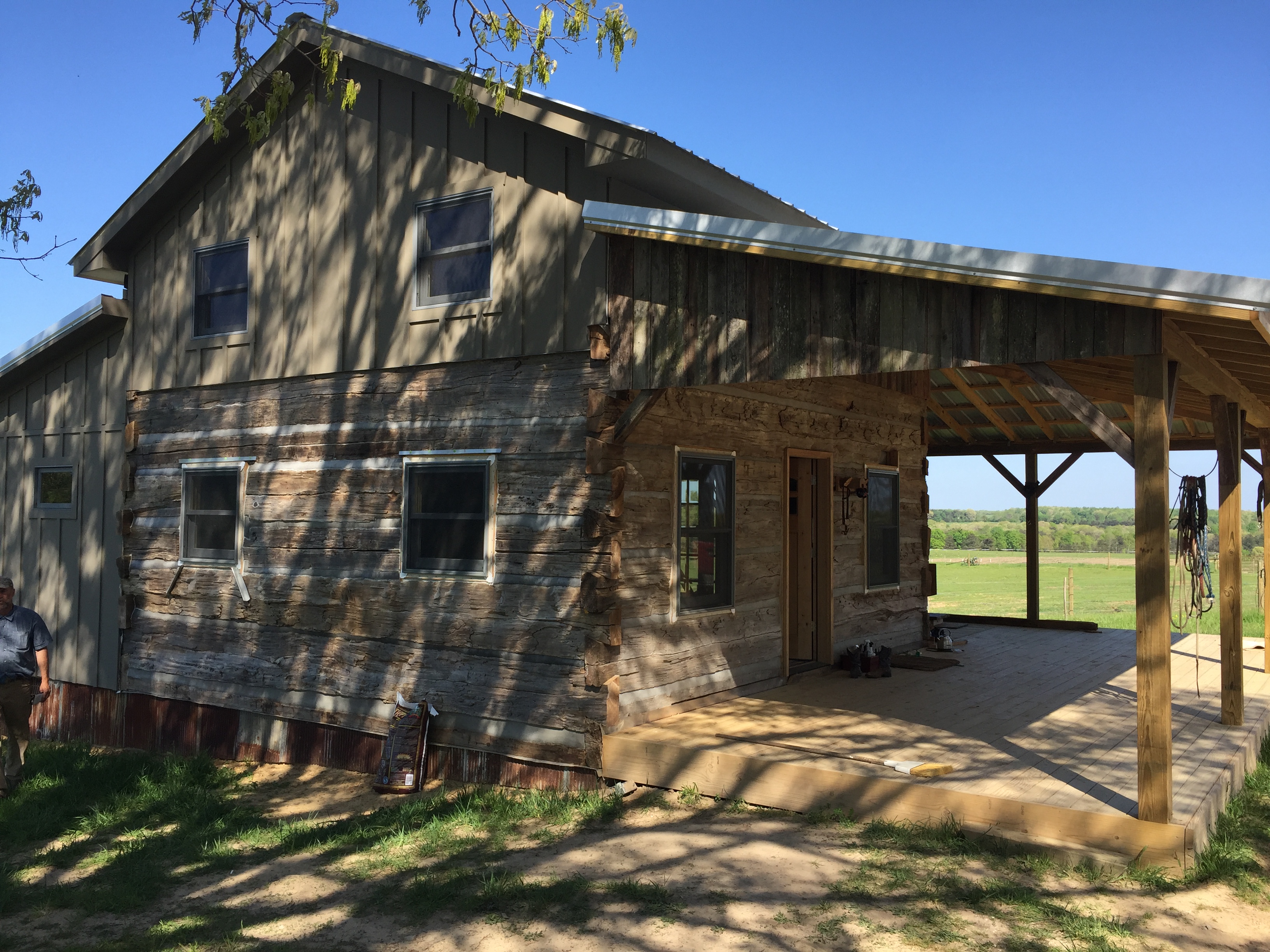 Well …..we have come a long way since I left you last fall.  I don't write the blog out of season, but that doesn't mean that things aren't happening on the farm!!  As many of you know, we are building a cabin on our new property.  We started in August, and hopefully will be finished this August – 1 year later!  It is a small house, the loft and porch make it look larger.  1 bedroom, 1 bath, a loft bedroom for Logan when he is here, and a one room kitchen living space.  We just got the water line in yesterday – hoorah.
Farm News:  Many of you inquired about eggs this season.  In the midst of everything – we rented our house to the son of one of our neighbors- who have the cutest lab/bird dog mix named Mabel.  Well, Mabel was minding her Ps and Qs and staying in the yard fence until one day…… she got out when no one was home and she killed 24 of our 35 chickens – all in an hour or so.  Needless to say – Curtis decided to give the rest of the chickens to a friend lest they suffer the same fate.  There will be no eggs this summer season.
Once we get moved to the new place I am planning to surprise Curtis with a new fleet of chicks – he was pretty devastated by the whole deal.
Furniture News:  We inherited with our new farm a wonderful old falling down barn.  Lots of beautiful wood.  Initially, we thought we would try to fix it.  However, structurally it turned out to be a disaster.  So we are using some of the wood in our house, and some of it for ….furniture.  Thus the Circle S Farm and Furniture Co.!
Curtis has always made the most beautiful furniture out of barnwood.  When his mother wanted to take down an old chicken house at their homeplace, Curtis decided to reuse the wood, that is when it all started.  Since then, he has made every piece of furniture we ever needed – an entertainment center, an island for our kitchen, a coffee table, mirrors for our bathroom., doors, picture frames, boxes….you name it!    He also has been commissioned to make tables for Boccacia (Italian restaurant downtown) and a wine tasting table for Riverside wine (he built their checkout counters and wine room as well).  I have decided to post a new piece of furniture each week and hope that readership to our blog will expand and help us cultivate this love and talent he has – bringing reclaimed wood back to life. So – this week's piece is one of my favorites.  It is so simple, but beautiful and practical.  Perfect to put next to your rocking chair – and will hold up inside or out.  It can be yours for $150!  I wish my pics were better.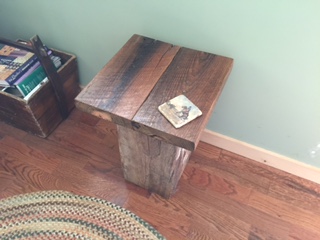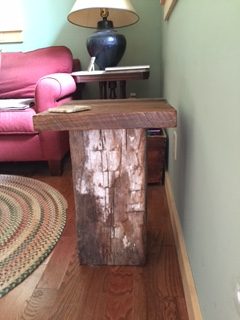 What's in the Bucket this week:  red and green leaf lettuce, turnip greens, mustard greens, kale, radishes and spring onions. 
AHHH the season of salads!!
Following – a simple kale salad.  Think about throwing mustards, lettuce or other greens in as well.  Substitute dried fruit or sweet potatoes if you don't have winter squash.
Serves 2
| | |
| --- | --- |
| 1/2 | cup cubed kabocha, butternut, or other winter squash |
| | Extra-virgin olive oil |
| | Salt and freshly ground pepper |
| 1 | bunch kale (preferably lacinato or dinosaur kale), ribs removed and finely sliced, about 2 1/2 cups |
| 1/4 | cup almonds, cut roughly in half |
| 1/4 | cup crumbled or finely chopped Cabot clothbound cheddar (or any good, aged cheddar — if you can't find aged cheddar, use parmesan) |
| | Fresh lemon juice |
| | Pecorino or other hard cheese, for shaving (optional) |
Heat oven to 425° F. Toss squash cubes in just enough olive oil to coat, and season with salt and pepper. Spread on a baking sheet (lined with parchment for easier cleanup), leaving space between the cubes. Roast in the oven until tender and caramelized, about 40 minutes, tossing with a spatula every 10-15 minutes. Toast the almonds on a baking sheet in the same oven until they start to smell nutty, tossing once, about 10 minutes. Let cool.

In a large mixing bowl, toss the kale with the almonds, cheddar and squash. Season to taste with lemon juice and olive oil (approximately 1 tablespoon lemon juice and 2 tablespoons olive oil). Season to taste with salt and pepper.

Divide salad between two plates or shallow bowls. Garnish with shaved pecorino cheese, if desired, and serve.