Patriotism is supporting your country all the time, and your government when it deserves it.
Mark Twain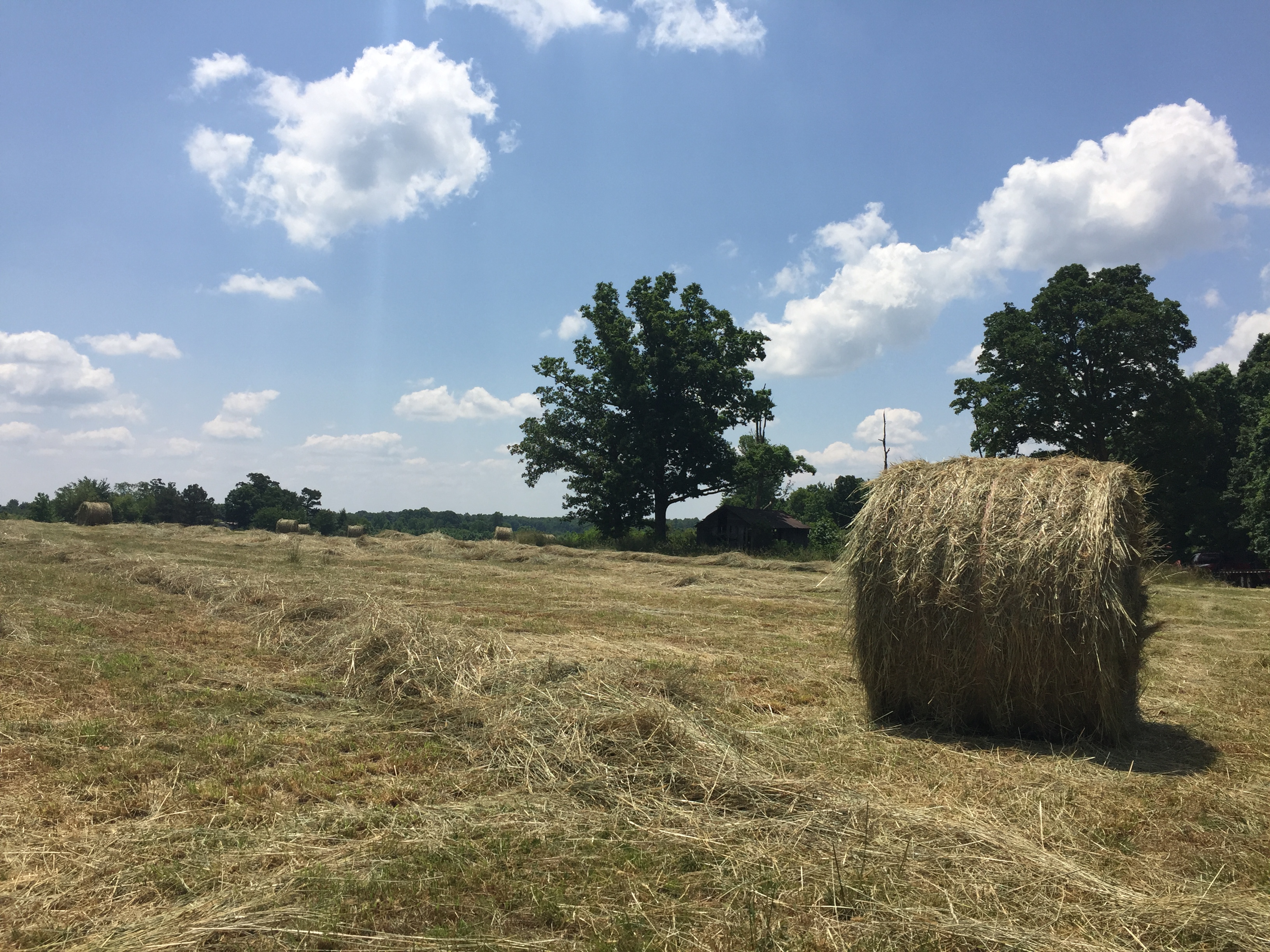 Curtis and I generally aren't aware of holidays etc.  We totally forgot our anniversary one year.  We don't give gifts per say, and we don't get any holidays from work.
So, of course, we weren't really aware it was Memorial Day weekend.  We were in the midst of haying – which always means equipment breakdown – or unlikely rain storms.  In a state of exasperation we went to little town of Menlo (population 474) to get a part for our hay baler.
There, on the square, they had the most beautiful display of flags representing the people in their community who serve or have served our country.  Curtis said "I love this town" as we drove by, and I thought of all the other towns and communities who also were honoring their servicemen.  It is a perfect example of local communities coming together to celebrate freedom – and the people committed to defending it.
Farm News:  Curtis and I have added 12 new cows to our herd.  We finally found some cows that were part of a small herd.  The farmers were selling them because they had lost their lease on some land, and were out of grass for them.  They are young and gentle and beautiful.  I made the AWEFUl decision to go pick them up Friday – forgetting about Memorial Day traffic.  The drive from Murfreesboro on I 24 was wall to wall.  I was 15 minutes from my exit when I got in a terrible traffic Jam.  Stuck on the interstate with a loaded trailer of cattle in 90 degree heat is not a place you want to be.  Luckily – an hour later I was able to make it through – and the cows seemed OK when we unloaded.
Furniture of the Week: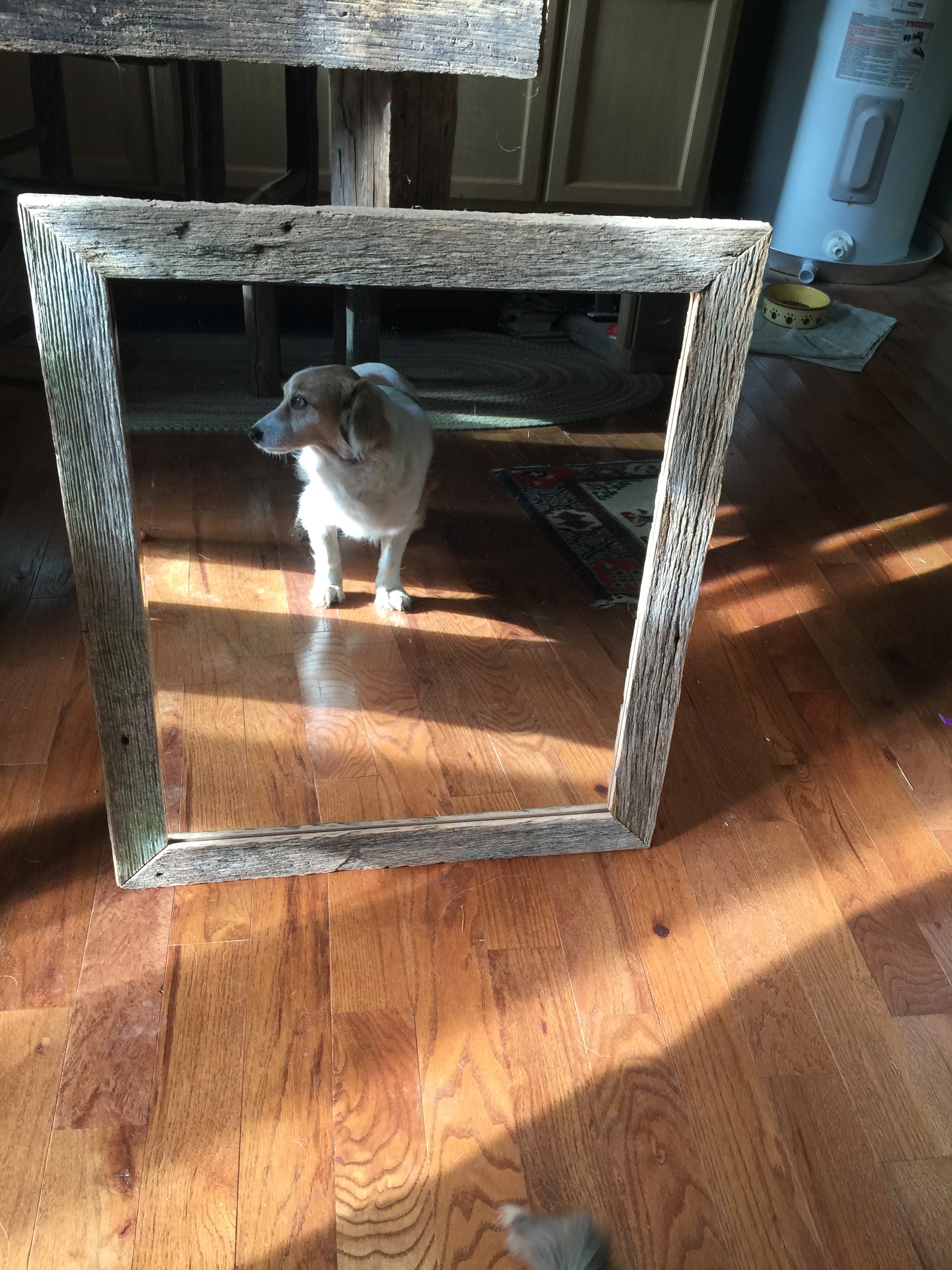 This beautiful barn wood mirror can be yours for $65 (but not Otis – he stays with us!)
What's in the bucket this week:  broccoli or napa cabbage, spinach, romaine and red bibb lettuce, turnips with roots, kale, broccoli greens, basil and rosemary.
What's at the market this week:  Green leaf lettuce, romaine lettuce, red butterhead lettuce, turnips with roots, broccoli greens, Kale.  BEEF-N- GREENS special: any two bunches kale, turnip greens with roots, or broccoli greens and 1# ground beef for $8.
Recipe of the week:
Broccoli greens:
2 c cooked broccoli greens
1/4 c spring onion chopped
2 sprigs fresh rosemary minced
2 cloves garlic, minced
2 T bacon grease
1 tsp salt and pepper to taste
Process
Wash broccoli greens and remove stems (including the primary vein bisecting the leaves).

Tear broccoli leaves into small pieces, chop green onion, mince garlic and rosemary.

Heat the bacon grease in a large soup pot or french oven over medium high heat.

Saute green onion and garlic for 2 minutes, then add the broccoli greens and rosemary. Saute for 10-15 minutes, stirring often – it will be finished when the garlic and onions soften and the broccoli greens are wilted.
Happy Eating and thanks for buying local food from Circle S